2013 Bed Bath Beyond Holiday Helpdbook
Home
/
2013 Bed Bath Beyond Holiday Helpdbook
Bed bath and beyond has released their 2013 holiday season helpbook. This edition is filled with several pages of great items you will need to make your Thanksgiving or Christmas a memorable one as far as the cooking is concerned.
The book offers great advice about planning for the holiday. It starts from 4 weeks out to the holiday when you start thinking about the theme of your party to the day before the holiday when you organize your kitchen and start prepping.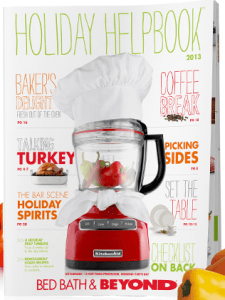 The catalog contains tools you'll need for every step of the holiday process. From the food, to table setting to decorations. You'll find the best china, the prettiest crystal and the shiniest silver for those looking to set up the most elegant tables. Items for your table include Vinyl table pads, Mckenna microfibre tablecloths, Mikasa florale vase, Beaded silver chargers, Mikasa dinnerware, Riedel Vinum stemware, Mikasa harmony flatware and microfibre napkins. You can find all these items by visiting www.bedbathandbeyond.com
Those planning a buffet party will also find all the items they need to successfully cater for this party. You'll find salad plates, dinner napkins, bamboo serveware, large food warmers, dinner plates, beverage cups, deep serving bowls, beverage dispenser and tier servers.
If you are planning a holiday party or just cooking for your family and don't know what to buy, this catalog is your perfect companion. There is a checklist at the end that you can use to make sure you have everything you need for a successful party.
Visit this link to get the catalog or pick one up from the checkout counter when you visit the store. If you are looking for a bed bath and beyond coupon, go here.